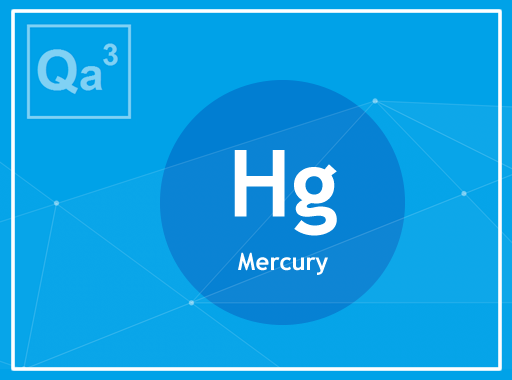 Mercury
The determination of mercury in oil and gas (and associated products and process chemicals) is one of the primary Qa³ services. With extensive experience in the determination of mercury, Qa³ is one of the leading authorities for this type of specialised service. This experience extends to the preparation of sampling equipment, on-site sampling and analysis of gases, liquids and solids. With our experience and knowledge of mercury chemistry, Qa³ are frequently engaged in complex site-wide surveys, mapping mercury across processes (gas separations, refineries and petrochemical plants). Where required, on-site speciation of mercury can be carried out to provide detailed information on the forms of mercury present.
Mercury concentrations in natural gas can range considerably. For example, it is common to find ppb levels in Europe whilst in SE Asia ppm levels have been observed; hence, Qa³ are frequently engaged in projects in the SE Asia region.
A Comprehensive Mercury Service
Qa³ has the experience and knowledge to give clients a complete understanding of mercury within their process, allowing them to assess the implications in terms of risk to the process, risk to workers and, if required, provide the information to develop a mercury management plan to mitigate against the issues resulting from the presence of mercury.
---
Mercury is particularly problematic to the oil, gas and petrochemical industry for several reasons:
Feedstock and Pipeline Specification
High mercury concentrations can lead to pipeline entry restrictions
Fiscal penalties are often imposed by processing plants and refineries for feedstocks with high mercury concentrations
Environmental and Health Issues
Potential for worker exposure above the Occupational Exposure Limit
Release to the environment allowing mercury to enter the food chain
Disposal of contaminated process equipment at decommissioning
Corrosion
Amalgam corrosion

Liquid Metal Embrittlement (LME) resulting in the potential for catastrophic failure of cryogenic equipment
Catalytic Poisoning
Forcing unplanned change-out of expensive catalyst
Reduces efficiency, final product quality and value
Qa³ has extensive experience in the determination of mercury in samples originating upstream through midstream to downstream processing and in the final refined products.
For the
upstream

oil and gas sector during exploration and appraisal well testing worldwide, Qa³ provide experienced chemists to quantify mercury in:
Stabilised and pressurised oil and condensate

Produced gas
Produced water

Process chemicals e.g. amine, glycol

Solids e.g. scales, sludges, deposits, filtered particulates and molecular sieve

Drilling muds and brines
For the
downstream

oil and gas sector onshore and offshore worldwide.
Qa³ provide experienced chemists to quantify mercury in all process samples and chemicals. A common requirement of downstream clients is to obtain a better understanding of mercury distribution across their process. Qa³ are able to provide a mercury mass balance survey across a facility to give process operators a clear picture of mercury partitioning within the process. It is important for clients to understand where in the process mercury may be accumulating or being removed.

If installed Qa³ can monitor mercury across a removal bed to check bed efficiency and potentially bed life.

If mercury is present in a process it can often be critical to conduct mercury monitoring during plant shutdowns to ensure workers are not exposed to mercury vapour in the air released from process equipment after breaking of containment. Qa³ have carried out monitoring of workplace air for clients ensuring compliance with occupational exposure limits for mercury as well as provided training to client's to allow them to bring this service in house.
Mercury Speciation
Sometimes it is necessary to understand the form of mercury in order to evaluate likely partition routes and also to decide what technology to select for removal of mercury. Qa³ can conduct a detailed functional mercury speciation suite on site on the clients installation. Performing this work on site is vital to minimise the chances of mercury losses to sampling vessels or species reaction or changing form. Please contact us for more details on our mercury speciation service.
Want to know more about our mercury services?
Whether just advice on sampling or an enquiry about an extensive mass balance survey we will respond as soon as possible.
Companies we work with...