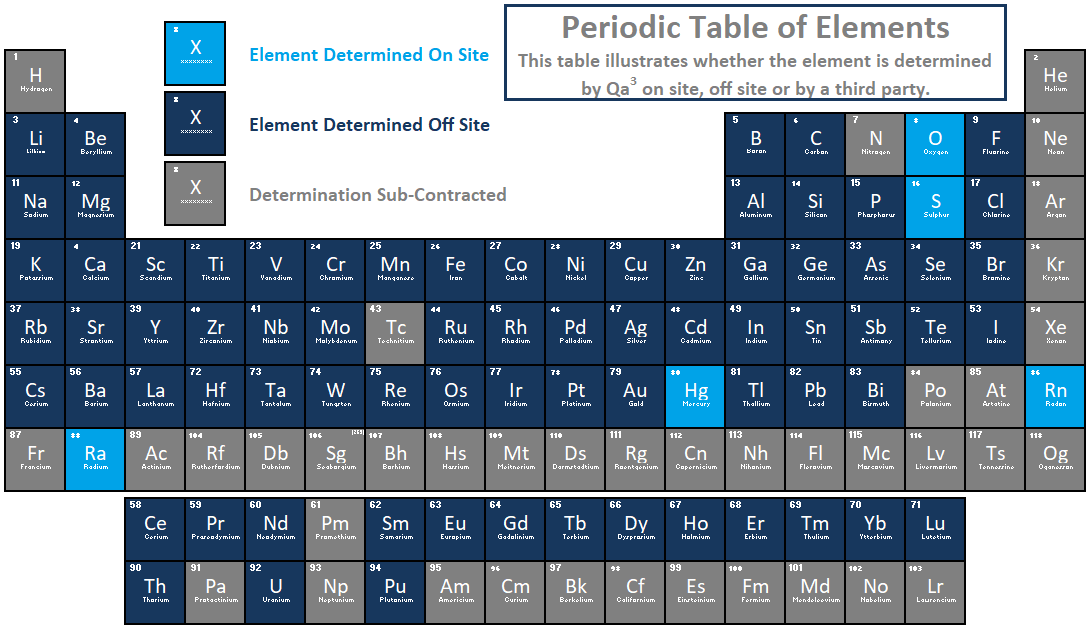 Elemental Analysis Capabilities
Elemental analysis is a common requirement in the oil, gas and petrochemical industries and Qa

3

are equipped with a range of specialist analysers to be able to carry out this testing for our clients. The periodic table shown indicates the elements Qa

3

can determine on site, those that can be quantified in the onshore laboratories and those which are sub contracted to third parties.
Common Requirements for Elemental Analysis:
• Water discharge limits for heavy metals
• Identification of unknown deposits
• Formation water and seawater characterisation
• Trace metals in molecular sieves and catalysts
• Trace metals in gases
• Trace metals in liquid fuels
• Contaminated cargo investigations
• Elemental sulphur deposition in gas pipelines
Where appropriate Qa
3
chemists attend the client's site and perform the sampling for subsequent analysis back at the Qa
3
laboratories. In addition, Qa
3
can also provide equipment and sampling vessels for the client to take samples themselves along with recommendations on appropriate sampling procedures.
Want to know more about our ICP services?
Whether you require quantification of metals in gas or liquids, Qa3 in house ICP techniques will have a solution for you.
Companies we work with...