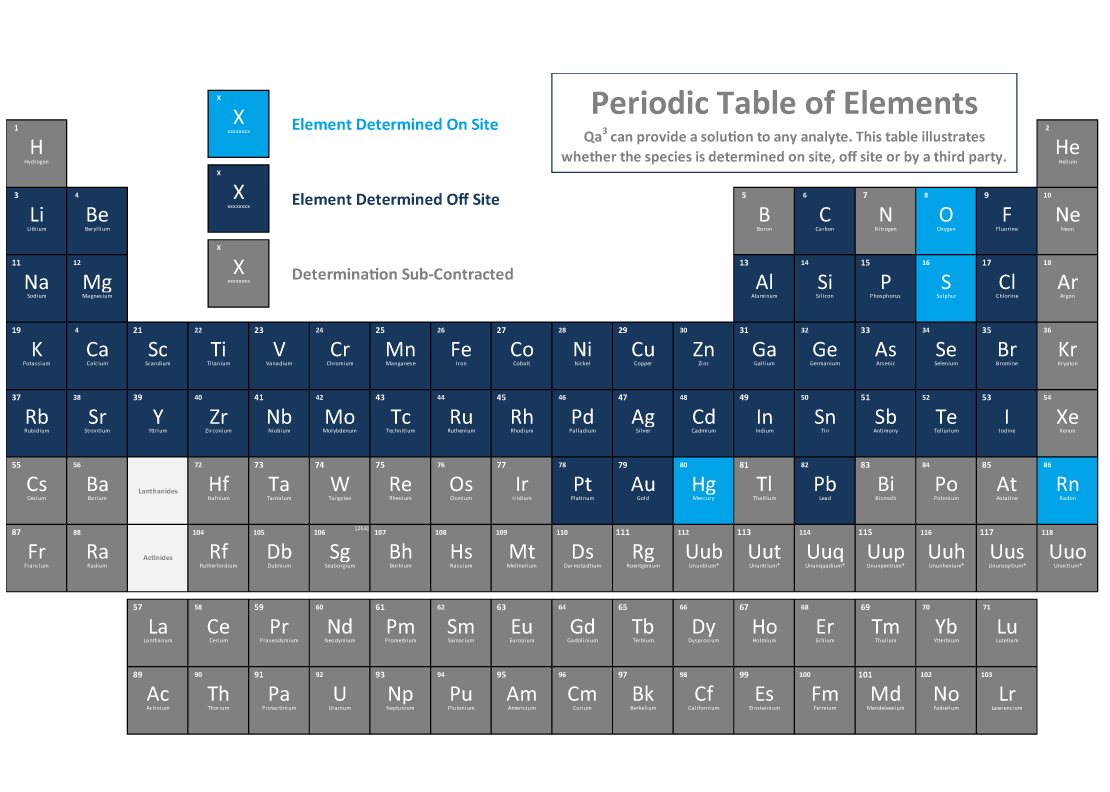 Elemental Analysis Capabilities
Elemental analysis is a common requirement in the oil, gas and petrochemical industries and Qa

3

are equipped with a range of specialist analysers to be able to carry out this testing for our clients. The periodic table shown indicates the elements Qa

3

can determine on site, those that can be quantified in the onshore laboratories and those which are sub contracted to third parties.
Common Requirements for Elemental Analysis:
• Water discharge limits for heavy metals
• Identification of unknown deposits
• Formation water and seawater characterisation
• Trace metals in molecular sieves and catalysts
• Trace metals in gases
• Trace metals in liquid fuels
• Contaminated cargo investigations
• Elemental sulphur deposition in gas pipelines
Where appropriate Qa
3
chemists attend the client's site and perform the sampling for subsequent analysis back at the Qa
3
laboratories. In addition, Qa
3
can also provide equipment and sampling vessels for the client to take samples themselves along with recommendations on appropriate sampling procedures.
"We have been using the services of Qa³ for a number of years, both for on-site analysis and off site project work. It is always a pleasure to deal with the Qa3 team and I am consistently impressed by their broad range of skills and experience, professionalism, problem solving abilities and the standard to which they deliver agreed objectives. Pricing and scope of work are always clearly laid out and excellent reports provided in a timely manner."
"Professional and well-oiled service and have delivered on each occasion where they have been required on site. Each member of staff who have been involved on the contract has always delivered above and beyond the requirements of the scope of work and provided additional technical support when asked to do so."
"Qa3 provide detailed technical analysis for H2S, CO2 and Hg for a number of different gas and liquid hydrocarbon product streams at our facility. The quality of their work, their working practices and their flexibility to attend site when we need them make them a valuable partner. Quarterly analysis by Qa3 chemists has been completed for over a decade at our site and Qa3 have a track record of safe, efficient delivery of their scope of works."
"We're very happy with Qa3 service. They fulfilled all our expectations and we will continue use their services in the future."
"Qa3 has established test method for analyzing Radon in hydrocarbon gases at our laboratory. We also use Qa3 for determination of Total Arsenic and Total Phosphorus in hydrocarbon gases. We are very satisfied with the service from Qa3. They are very service-minded and professionally very skilled."
"We tasked Qa3 to identify an unknown substance in our compression system of which very little was known and identify its likely source. In spite of us being only able to supply a small sample they successfully identified the substance and its likely source."
Want to know more about our ICP services?
Whether you require quantification of metals in gas or liquids, Qa3 in house ICP techniques will have a solution for you.
Companies we work with...