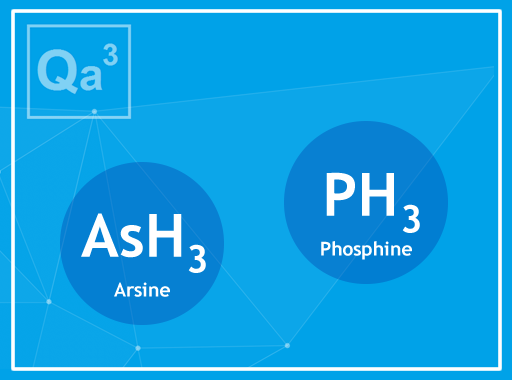 Arsenic and Phosphorus
The determination of arsenic and phosphorus is important in the oil and gas industry as some petrochemical catalysts used in the processing of gas and liquids are susceptible to poisoning from these species. For this reason, specifications for arsenic and phosphorus are imposed on some refined products. There has been at least one documented case where the presence of alkylated arsine has led to an unplanned shutdown (both onshore and offshore facilities) after the premature failure of a petrochemical catalyst.
Qa³ has made a significant investment in the development and validation of methodology for the determination of arsenic and phosphorus in hydrocarbon gas and gas condensates. One outcome of the research has resulted in a solid phase sorbent trap designed by Qa³ to capture arsenic and phosphorus species selectively. These traps can be supplied to clients to perform the sampling themselves and then return the traps to the Qa³ laboratories for analysis by USN-ICP-OES.

For an in-depth study, e.g. where a mass balance across a facility is required, or if the client does not have any trained sampling technicians, Qa³ personnel can be contracted to perform the on-site sampling.

If required, the methodology developed by Qa³ can achieve a detection limit of as low as 0.1 ppb in gas.
Want to know more about our arsenic and phosphorus services?
Whether looking to rent or purchase a sampling system or have a requirement for a site sampling campaign.
Companies we work with...